Attention:

Anyone who wants to wow everyone with your "Godlike" ability to learn & speak multiple unrelated languages insanely fast...
"The New FLR Samurai Program Reveals What I Do From Day 1-55 To Attack New Languages & Conquer Basic Conversation Fast!"
Have you ever wanted to be a fly on the wall and watch my language learning routine from start to finish? Imagine being able to learn ANY language the same way I do and have basic conversations with random strangers in just a few weeks.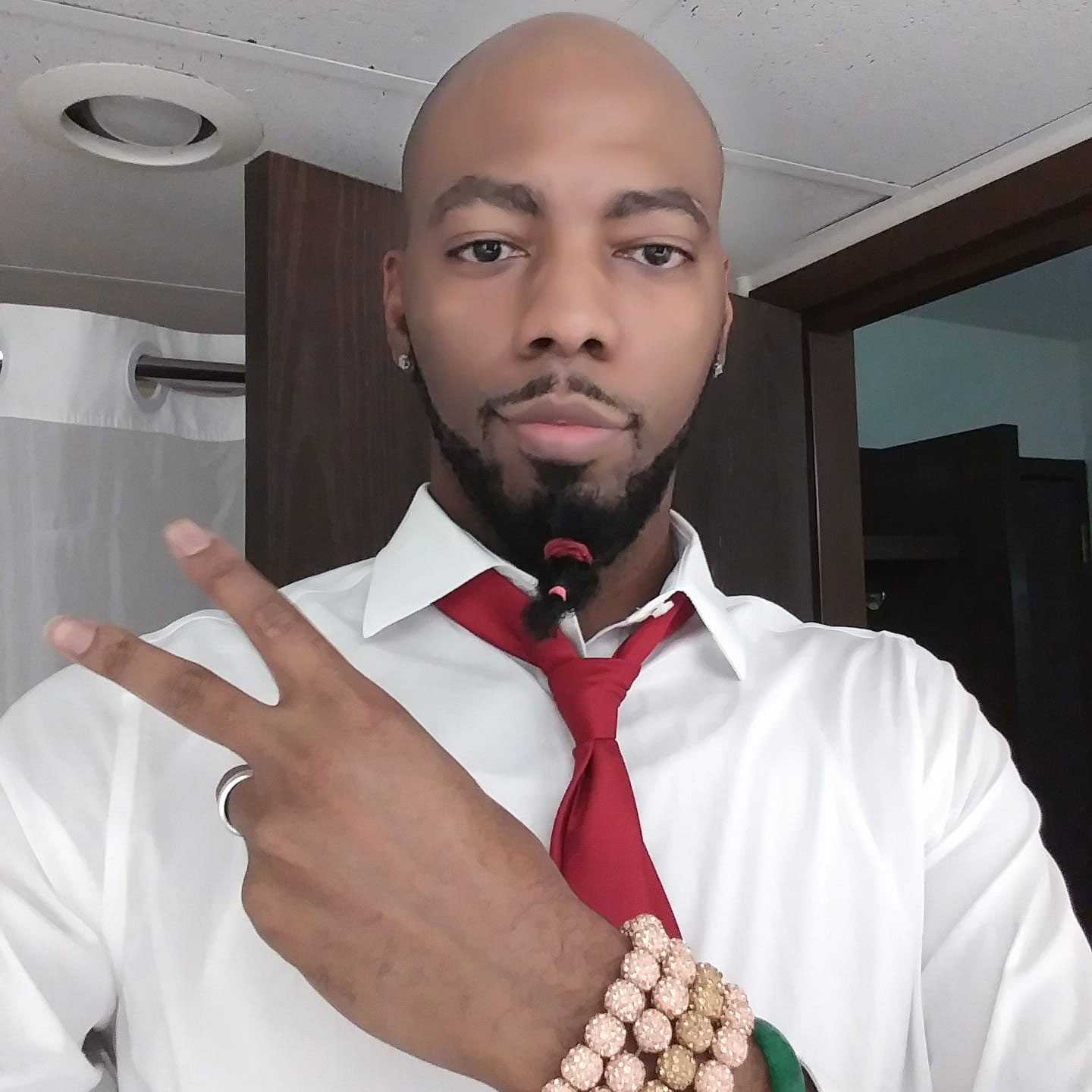 Moses McCormick
Seasoned FLR Samurai
Join FLR Samurai
Samurai used a variety of weapons, including bows, spears, and even simple firearms. They were all about getting the job done in the most efficient way possible. The FLR Samurai Program walks you through the tools, mindset and the core beliefs you need to crush new languages.
Greetings:
Picture this in your life 2 months from now:
You're walking down the street and see a couple of people speaking a language that's not your own but you instantly recognize it. You
confidently
walk up to them, start a conversation and
instantly watch their jaws drop.
They simply can't believe you're speaking their language.
And when you tell them you've only been studying their language for two months you'll laugh because of the total
amazement

and

shock

on their faces.
Some Of The Amazed Reactions I've Gotten
You'll be able to do this too...
After you walk away from an encounter like that, the feeling you have is indescribable. You feel like you can literally do anything because something you thought was impossible before is now so easy once you understand how the "FLR Samurai Method" works.
People would look at you like you're a genius.
People would hang on your every word as you naturally draw a crowd whenever you decide to unleash your new "Godlike" ability to speak someone else's language as if you've been to their country. What would you do with that kind of power?
With your newfound ability, you're able to EASILY
approach someone you've always wanted to meet
or start
long-lasting friendships
with anyone you want just by saying a few simple words in their language with near perfect accuracy.
How would that feel?
Now You Have The Opportunity (If You Hurry) To Learn Directly From Me For 60 Straight Days & Unleash Your Inner FLR Samurai!
This system allows you to approach ANY language with a well-defined plan of attack giving you the confidence to pick up your target language quickly and speak with natives fast instead of waiting months (or even years) like with other programs.

If you want to work with me personally over the next two months to activate your own language talents and network with other like-minded individuals who are just as committed to language learning as you are then I encourage you to read the rest of this letter with an open mind.
Here's A List Of Languages I'm Able To Study Every Day Because Of This System
There are 12 languages on this list and the only one I haven't been able to spend a lot of time on is Czech. So, I'm actively studying 11 languages a day and making progress in each one while most people struggle with just one language.
How can I do this?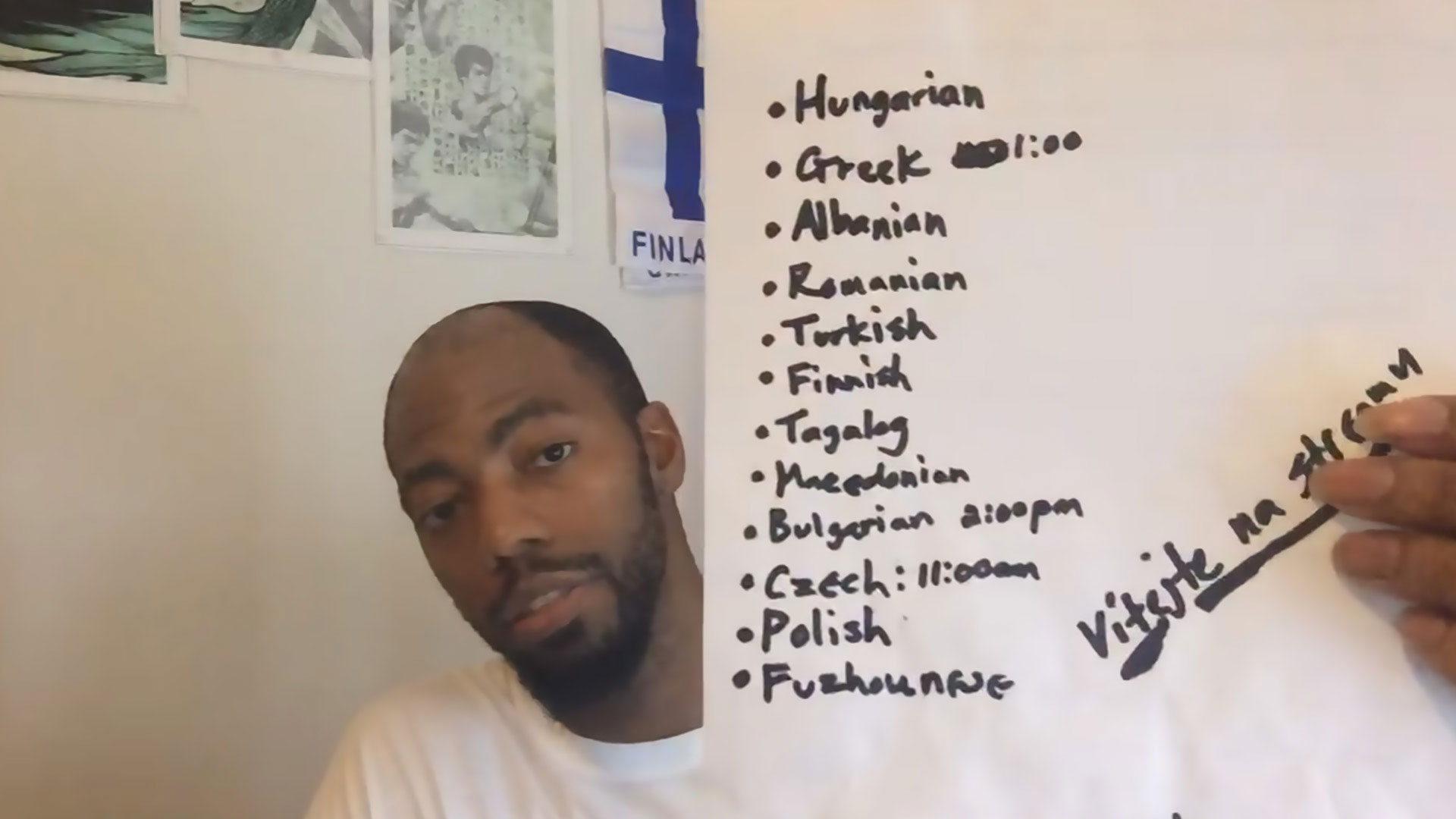 The FLR Samurai program is based on a system I have honed (like a Samurai's blade) and perfected over the last 15 years in the trenches, talking to native speakers in 50+ languages. Now of course, you won't be able to study 11 languages a day right off the bat but you WILL be using the same system that allows ME to do that and I can do it because I've been doing this for a while.

You will however be able to easily learn 2, 3 or even 4 languages a year.
Does This Sound Familiar?
You have been trying to "get to the next level" with your language learning for 1-3 years (or more) and no matter what you do, you're stuck?
Maybe you've made some progress but not quite enough to be satisfied with and no matter what you try, you just can't break through to the next level so you actually feel confident enough to talk to a native speaker in the language you're trying to learn?
Or maybe you've been able to learn another language but it took so long that you feel deep inside there has to be a faster and easier way to learn the next one on your list?
If you are in any of those categories, I get it.
Here's why: I regularly talk with clients who are in one of those 3 categories.
In fact, my specialty is helping people who are stuck, break through.
I've been able to study and speak over 50 languages using what I'm going to show you.
It's a predictable and repeatable process that works. I've recorded hundreds of videos where I talk to random strangers in dozens of different language and everything I'm doing is something you can copy and do for yourself.
Some Of My Language Progress In 2-3 Months
You'll be able to do this too...
STUDENT- Cantonese 3/Months
STUDENT- Mandarin 8/Months
Note: The student above used FLR initially to get started and because FLR allows you to start speaking with natives in just a few weeks, he was able to continue learning with natives well after he'd gone through the initial couple of months training.
Testimonial For Cantonese
I can't count the number of times someone has said something like this to me:

"Moses, I have had (1-3) coaches that I've worked with for months, and no one has given me the clarity you have given in the last hour"

or:

"Moses, the breakthrough you've given me in the last 20 minutes has been incredible... this is going to change my life"

or:

"I was stumbling around, trying different things, before I met you... but now I have the clarity and vision I need to take my language learning to the next level"

There's one level of learning that comes from studying pre-recorded training material and lessons. And of course you can learn a lot.
Speaking Multiple Languages Makes You Money
Conservative estimates say that speaking another language can make you anywhere from an extra
$51,000 – $128,000 over the course of your working life
(source: Economist.com) and that's if you only speak ONE other in-demand language. However, the FLR Samurai Method allows you to learn as many as you want.
Imagine speaking 3 extra languages.
Instead of making an extra $50,000 – $120,000 over the course of your working life it's possible to
multiply that to $150,000 – $360,000
depending on the demand of the languages you learn. And that's even if you never earned a single penny of interest on that extra income.
This doesn't even take into account the extra money you can make as an entrepreneur who is able to break into marketers most of your competitors won't be able to reach simply because they only speak English. You can become conversationally proficient in 1-3 languages per year depending on the time you have to devote to this method.
This Is The Closest Thing To Switching Brains With Me
That's how much insight you'll get into my language learning process.
I find that when someone spends 4-8 weeks with me, working personally with me, me giving them specific instructions that are immediately implementable in their language-learning process, when they implement those steps, they get fast results.
And frankly speaking, in just a few minutes with me, I can zone in on your problems and make suggestions that can accelerate your language growth.
So the question is this:
How would you like to work personally with me for 2 months?
I will give you the exact steps to take to learn virtually ANY language you choose faster than you ever thought possible.
And you will get results.
I promise that if you do what I tell you to do, you will get results.
Would you like that?
If so, read on...
Now, up until now, if someone wanted to work closely with me they had to pay $75 an hour for my 1-1 time. So to work with me for 2 months would run anywhere from $1,000 to $2,500.
Of course we would get phenomenal results.
But the fact of the matter is this: $1,000 is out of reach for a lot of people.
So, a few days ago I had a brainstorm...
Why not create a limited access Private Training Program, limit it to just 25 people, and add in a powerful level of accountability?
Something that would be real close to 1-1 time with me, where you get to talk with me personally 4x a month, and instead of just answering q and a style questions, we would create a 2 month blueprint for you right at the beginning, in a 1-1 session with me, then meet 4x a month in a group with the other 24 members in the program, and each time we meet, I will hold you accountable for your progress – or lack thereof – on each goal.
And not only would I be giving you instructions – and accountability – but because it's mastermind – style, you would be able to hear the ideas I give others in the group.
What happens a lot of time with that, is that I give one person an idea for something, you hear it, and think,
I can do that too...
and you have a real aha moment, something you can implement immediately as well.
Do you like this so far?
If so...
Introducing...
The New FLR Samurai Program:
Follow FLR Creator (Moses McCormick) for 60 straight days and discover what he does daily to crush new languages and confidently have basic conversations with native speakers in record time.Develop the "Godlike" ability to rapidly assimilate new languages and impress just about everyone you meet.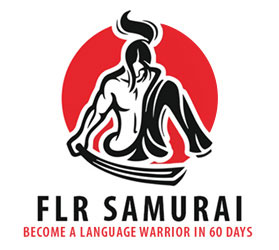 There are five components of my brand new FLR Samurai Program:
WAY OF THE FLR SAMURAI #1: (TRAINING)
Private Access to 60 daily videos (yes, even the weekends) that show you what Moses McCormick (FLR Creator) does to absolutely CRUSH new languages so you can COPY MY ACTIONS & build your own language learning skills the same way I do. This is THE #1 thing people have been asking (begging) me for. Not only will you get to peek behind the scenes, you'll be able to do it cheaper than anyone else can in the future.
WAY OF THE FLR SAMURAI #2: (DISCIPLINE)
Supreme accountability. Repeat from earlier: each time we meet (4x per month) I will personally hold you accountable for what you have agreed to do the meeting before. Can you see how this will help you get results? Imagine if every week I hold you personally accountable for achieving your goals? I won't be mean about it, but I will call you on it if your dog eats your homework. I mean, excuses. Excuses have to go if you want to become a language Samurai. – $1,000 value
(Wow, that sounds harsh when I re-read it. It won't be that tough. I will be respectful, I think you know that about me. But seriously, I am going to hold you accountable, because that is the ONE thing that is probably holding you back from success in a big way. Let's change that and get you RESULTS! )
WAY OF THE FLR SAMURAI #3: (WISDOM)
Right up front, you'll get a personal 1-1 call with me where we will outline your language learning goals. This is a personal call just between you and me for 1 hour where you can ask me anything you need to know that will help you as a language Samurai. I can share wisdom based on over 15 years of language learning experience. And remember, this is in addition to the 4 times per month we'll meet with the rest of the group. – $1,000 value
WAY OF THE FLR SAMURAI #4: (COURAGE)
You must (at some point within 3-4 weeks) be willing to walk up to complete strangers and start a conversation that leads to saying something in their native language. Yes, it's scary and uncomfortable but real growth comes from doing the very thing that makes you uncomfortable and scares you. I will from time to time ask you to speak to me and the group in the target language you're learning and hold you accountable for progress. We'll all hold each other accountable to make sure we all move forward together. – $2,000 value
WAY OF THE FLR SAMURAI #5: (INTEGRITY)
A Samurai must be smart in making choices and always choose what is good for the clan. You will get the ability to actively mastermind with the others in your private FLR Samurai clan. In fact, I encourage it. Get to know each other and help each other out. Benefit each other. If you see someone struggling with something you can easily do, help them understand what they could do better. Share your way with them and others will share their way with you. Would this be helpful? – $2,000 value
So What's The Price?
First of all, this isn't going to be cheap, but it isn't really expensive either.

The thing is, if what you are looking for is some cheap cookie cutter oversold program with hundreds of other people in it who aren't serious, this isn't the place for you. This is going to be personal, I'll be personally holding you accountable, and if I price this too low, then the people who join won't be serious. The progress of this clan depends on everyone being serious and helping others in the clan.

I only want serious people in this program, I don't want anyone who's not dead serious about changing their life and becoming a language Samurai with the ability to communicate with native speakers in a wide variety of languages & impress virtually everyone they meet in 2 months. And it's designed that as soon as you get the results, you get out – it's not something you stay in forever, month after month. Don't misunderstand, you'll always have access to the videos, but after two months you won't need me to hold your hand anymore.

Anyway, I had considered $1,000 per month (or $2,000 total) for the program and in the long run, that may be the price on it. But I wanted to make this something that the most # of serious people could participate in as fast as possible to get the fastest results without degrading the price so that people who aren't serious are getting in.
But, That's Not What YOU Pay
So instead of $1,000 a month (or $2,000 total), I've decided to make the FLR Samurai program
$497 total.
Once you complete this program, you'll understand how I approach language learning and how I'm able to study 5 or more languages at a time and make progress with each one.
And There's Even More…
To really help you become an FLR Samurai language warrior as fast as possible, I've decided to give you a few extras that really overload you with value. Just thinking about it, I'm thinking I should raise the price right now because of how valuable these extras are.
BONUS #1: The Master-less Samurai:
Even though I sell language courses based on my own FLR Method, I'm going to teach you how to use other language courses like "Teach Yourself" & "Assimil" to learn other languages so that you can add in variety to your language-learning arsenal. This helps you build your skills faster because you'll be able to absorb skills faster if you can get them from a variety of sources. I want you to be able to see language learning the way that I do and this bonus will help you do that. An FLR Samurai should be well-versed in as many different tools to get the job done as possible without being a slave to any one method, tool or technique. Results are all that matter. This will put you years ahead of just about everyone else out there. – $1,500 value
BONUS #2: MASSIVE 60% Off Every FLR Course:
When you follow what I do day to day you'll need a course to follow along with me. Because of that, you're getting a massive 60% discount off every course but waiting inside the member area are levels I & II of Chinese Mandarin & Cantonese to get you started. You don't actually need to buy a course to get started. – $1,200 value
Sign Up Now While You Can…
Now, you and I both know this is going to make a huge difference in your life. And the sooner you get in, the faster you will get results. The faster we can do your first 1 on 1 call, and the faster I can start holding you accountable.

So here's what I suggest:

Sign up now, while you can... because I am limiting this to just 25 people for the first two months.

I look forward to working personally with you to help you achieve the results you desire!

— To your success,

Moses McCormick
Seasoned FLR Samurai